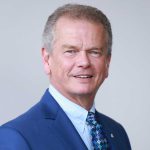 Tom Noseworthy is Professor (Health Policy & Management), Community Health Sciences and O'Brien Institute for Public Health, Cumming School of Medicine, University of Calgary. He is the former Head of that Department and inaugural Co-Director and founder of that Institute. He formerly served as Chair of Public Health Sciences, University of Alberta.
Dr. Noseworthy is a physician trained in Internal Medicine and Critical Care, with specialty certification in the Royal College of Physicians and Surgeons of Canada (FRCPC), the American Colleges of Physicians (FACP), American College of Chest Physicians (FCCP) and American College of Critical Care Medicine (FCCM). He holds a Master of Science in Experimental Medicine from the University of Alberta, and a Master of Public Health (Health Policy & Management) from Harvard University.
Dr. Noseworthy has had extensive experience in health care management and was VP Medicine and later CEO of the Royal Alexandra Hospitals (1989 – 1995). He joined Alberta Health Services as an embedded researcher in 2011 and was the Associate Chief Medical Officer, Strategic Clinical Networks, until January 2015. As interim assignments in 2012/13 and 2013/2014, Dr. Noseworthy served as Zone Medical Director, and Vice President and Chief Health Operations Officer, North Sector & Edmonton Zone, respectively.