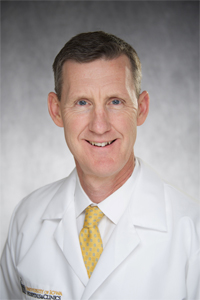 Dr. Colin Derdeyn
Professor of Radiology and Neurology
Colin P. Derdeyn, M.D. is the Krabbenhoft Professor and Chair of the Department of Radiology at the University of Iowa Hospitals and Clinics. He is also a professor of neurology and neurological surgery. He directs the NeuroEndovascular Service and the Iowa Institute of Biomedical Imaging.
He received his B.A. (Echols Scholar) from the University of Virginia in 1984, and his M.D. from the University of Virginia in 1988. His Radiology residency was at the Mallinckrodt Institute of Radiology at Washington University. He served as Chief Resident his final year. His NeuroInterventional fellowship was at the University of Wisconsin-Madison, under Dr. Charles Strother.
Former national leadership roles include serving as president of the Society for NeuroInterventional Surgery and Chair of the Stroke Council of the American Heart Association/American Stroke Association. He is on the editorial board of Stroke and AJNR.
Dr. Derdeyn's practice is limited to the endovascular treatment of cerebrovascular disease, including ischemic stroke. His research interests primarily relate to occlusive cerebrovascular disease and cerebral hemodynamics. He has extensive experience in stroke-related clinical trials as an executive investigator, including COSS and SAMMPRIS and currently MOST. He was the director of the stroke and cerebrovascular center at Washington University from 2007 – 2015, including the SPOTRIAS-funded stroke research center. He chaired the DSMBs for several past and present stroke clinical trials, including ESCAPE, ICTUS-L, MR RESCUE and MISTIE-3. He has also supervised image cores for several clinical trials including COSS, LVIS, and ANSWER.